Bldg 1 – Blue Monarch Massage
Flutter On In!!!… To Blue Monarch Massage, family owned and operated since 2010! Whether you are looking to relax, or suffering from muscle aches, pains, or dysfunction, Blue Monarch Massage in Bracken Village has everything to offer.
 Our highly skilled and formally trained Licensed Massage Therapists offer the most cutting edge techniques in the Massage and Bodywork industry to provide relief from common conditions such as Lower Back Pain or Lumbago, Carpal Tunnel, Trigger Points, or just over all muscle tension and tightness. Hot Towels and calming Aroma are provided with every Therapeutic Massage service to increase relaxation and enhance the overall treatment.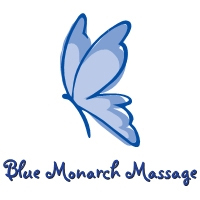 Or, if you're looking to escape, Blue Monarch Massage's Botanical Spa services are the perfect retreat for your mind and body. Choose from relaxing hand or foot treatments using botanical Keyano Aromatics to polish and soften skin, or our Fresh Face Treatments using Certified Organic Alba Botanicals to cleanse and brighten the complexion while an extensive Facial Massage tones and tightens the skin. …And for the Ultimate Wellness Experience, try one of our Cocoon Body Wraps or Steamy Wonder Spa Treatments!
For more information on our services, rates, and the benefits of Massage and Wellness please refer to our website or "Like" us on facebook.
 So Flutter on into Blue Monarch Massage, or if you've visited us before….Flutter On Back!